Rooba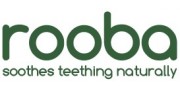 With three children of their own and having had lots of sleepless nights due to their kids sore gums, for the creators of Rooba, it was about time to create something new and eco-firendly. They had looked closely at the vast array of options of teethers out there and many of them are potentially unsafe, toxic or unfriendly to the environment. 
Boo the Bunny is their first teething toy.
They ensure everything they do is safe for your baby, helps them with their pain while minimising the effects on our beautiful planet. Rooba products are natural, non-toxic, recyclable or biodegradable - designed in the UK and produced in Malaysia, only using natural rubber that comes from well maintained sustainable plantations and where employees have a safe working environment and regular training to ensure the highest quality products. 
Sorry for the inconvenience.
Search again what you are looking for